Wait is almost over for Greenock Community Hub
April 1 2020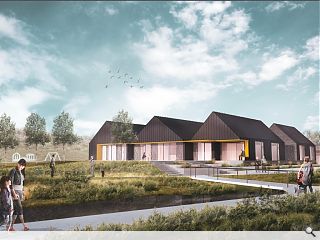 A £2m community centre in Greenock is poised to break ground this summer following receipt of planning permission from Inverclyde Council.
Craigend Resource Centre will provide a direct replacement for outdated existing facilities in response to the evolving needs of the community and is the product of seven years of design development at the hands of INCH Architecture + Design.
From a feasibility study conducted in 2013 the practice has developed a solution based on three triangular prisms, each with distinct gable detailing, in an overt response to historic warehouses common to the area.
Clad in metal standing seam panels the hub is built around a central café with generous double-height volumes denoting the main public spaces, each with an open outlook across a terraced landscape to the Lady Burn.
INCH director Alisdair Clements noted: "Craigend Resource Centre is and will always be more than a building. The existing centre is a truly intergenerational hub for the local community, where all ages come together.
"The design of the new building has been informed by the lessons learned from the old and developed to suit the current and future needs of the community. As with all of our buildings, the new centre is designed to support all ages; from young adults with additional needs to older adults living with dementia."
The Scottish Government's Regeneration Capital Grant Fund, the National Lottery and the Community Assets Fund all supported the community hub.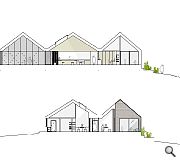 The resource centre follows the rule of three
Back to April 2020