Marriott alight on Inverness for latest hotel bid
March 16 2020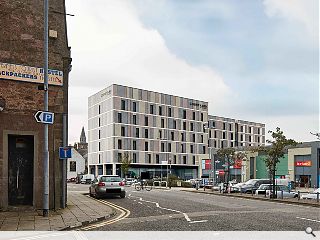 Inverness has been chosen as the location for another Marriott hotel with the submission of new plans by Bricks Capital and KKA Architecture.
A gap site on the edge of the city centre at Academy Street has been chosen for the L-plan build which would replace a disused car park and storage yard with a 162-room hotel.
Set back from the street to permit generous public realm the hotel will be split into three defined blocks separated by vertical glazing and louvres. The design also accommodates an independent gym at ground floor level accessible from Rose Street with a double-height main entrance fronting Academy Street.
The principle entrance pavilion will be clad in sandstone with feature glazing with the body of the hotel finished in irregular aluminium cladding panels.
Outlining the design approach KKA wrote: "The distinctive corner of the building is located along Academy Street is a double-height structure with an articulated, sculptural canopy.
The whole of the primary elevation which is visible from Academy Street will have an embellished window detail highlighting the triangular shapes used in the entrance canopy.
"The general form of the building will have windows in a random pattern to add some interest to the elevation and it will have deep reveals to highlight the three-dimensional nature of the elevation."
Last year a riverfront site at Glebe Street was earmarked for a 177 room AC Hotel by Marriott hotel.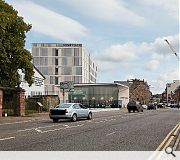 The building seeks to reverse a trend towards low-quality render and colour coated cladding seen in recent years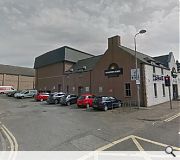 The Ironworks Venue will be demolished under the plans
Back to March 2020