Inverness school enlivens education with a splash of colour
March 16 2020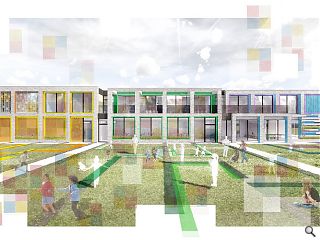 Highland Council has given the go-ahead to an 850-capacity primary school at Ness Castle, a new build housing estate to the south of the city, to be delivered in two phases by Stallan-Brand Architects.
The colourful plans call for the creation of an initial 12 clustered south-facing classrooms, playrooms and a nursery arranged around a central gathering place which doubles as a place for play, group work and presentations.
To minimise wasted corridor space each classroom will have the capability of opening out onto circulation routes in a series of linked 'learning plazas' and breakout spaces with each classroom also spilling out onto playgrounds.
In a design statement, the practice wrote: "As the first new public building in the Ness Castle area the school will help to define the identity and sense of place for this new community."

Designed on the principle that daylight and colour can boost attainment and wellbeing the school employs a modular plan that lends itself well to future expansion in lockstep with ongoing housebuilding in the area.

Phase one of Ness Castle will welcome pupils in August 2021.

Thick-set masonry walls take their cue from traditional Scottish tower houses with deep-set windows providing ample space for seating, planting and terraces.
Back to March 2020