Glasgow announces measures to double city centre population by 2035
November 20 2019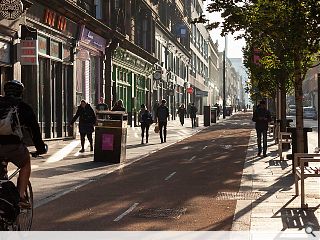 Glasgow City Council has unveiled a raft of measures designed to double the city centre population to 40,000 over the next 15 years as part of its draft City Centre Living Strategy.
A 10-week consultation will get underway from 29 November to explore how best to increase density, encourage development and improve amenity through initiatives such as repurposing vacant upper floor commercial space.
Attention is focused on the Clyde corridor with the intent to open up the river to development over the next 30 years by managing future flood risk and promoting placemaking by protecting existing townscapes at Govan and Partick.
Outlining the need for change, the document notes: "While the city centre is currently home to a growing figure of just over 20,000 people, Glasgow lies behind cities such as Manchester, Liverpool and Birmingham in terms of the numbers living and moving to live in the centre of those cities."
Key schemes include the Glasgow Riverside Innovation District (GRID), a planned urban quarter spanning Glasgow University, Govan and the Queen Elizabeth University Hospital seek to address this imbalance.
Efforts also include the Clyde Waterfront Innovation Campus which will complement ongoing heritage repairs such as the conversion of the B-listed Lyceum Cinema into a community-owned music venue.
In tandem with this, a major programme of refurbishment has been confirmed for pre-1919 housing stock across Ibrox and Cessnock, beginning with 295 tenement properties which have been identified as being in need of urgent rehabilitation.
In 1914 there were 700,000 people living within three square miles of Glasgow Cross but the city population has dwindled since the 1950s as people migrated to new towns, peripheral estates and suburbs.
Back to November 2019