The University of Aberdeen shows it means business
March 10 2020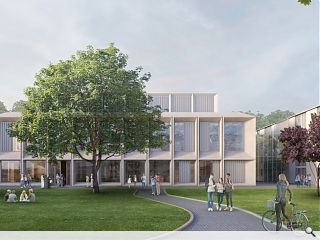 The University of Aberdeen has progressed plans for a new business school as part of a £50m masterplan for its historic King's Campus.
The institution has filed plans to bring its Old Aberdeen home up-to-date to meet the needs of a growing student population through the addition of a range of teaching and learning facilities.
Foremost among these is a plan to relocate the Business School from its current home at the MacRobert Building to a redeveloped Johnston Halls. A package of works includes the formation of a new pavilion, lecture hall and seminar space together with a central foyer doubling as a social and public engagement space.
This will dovetail with wider plans for the university's historic estate with plans already in train to create a new atrium, improved landscaping and the refurbishment of landmarks such as the Old Senate Wing, Book Stack and Cromwell Tower.
University of Aberdeen vice-principal Alan Speight commented: "The proposed design for the new Business School will deliver an exciting, modern building that regenerates underused space on our campus while remaining sympathetic to its existing surroundings.
"Earlier this month we launched our Aberdeen 2040 strategy which sets out our bold ambitions for the University's future. Looking ahead to the next 20 years, it is crucial we remain equipped to meet the needs of modern students with contemporary, adaptable and technology-ready facilities."
Back to March 2020