Urban greening unlocks Edinburgh industrial estate potential
March 9 2020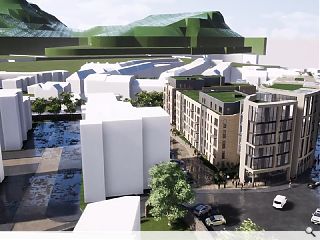 Artisan Real Estate Investors have undertaken the latest in a series of public consultations describing plans to redevelop Edinburgh's Abbeyhill Industrial Estate to provide a mix of new housing complementing a newly completed Bellway Homes project.
Brought forward with Unite Students the scheme will transform half a hectare of brownfield land through the creation of a linear student block along Abbey Lane together with two mainstream residential blocks arranged around a shared amenity courtyard.
Latest thinking has seen the design team comprising CDA, Allan Murray Architects and HarrisonStevens tweak the height and massing of their proposals to reduce the proportion of accommodation on offer to 66 flats (a quarter of which will be classed as affordable) and 298 student beds.
A series of stepped green roofs have been specified with feature 'pop-ups' and setbacks to animate the roofscape and accommodate dramatic south-facing views to the Salisbury Crags. At ground level meanwhile, pavements will be widened and an active street frontage fostered with a new community facility.
Landscaping works will also include a maintaining a green corridor along an adjacent railway together with tree and shrub planting to boost biodiversity.
Demolition is expected to commence within a matter of weeks before a start on site being made in November, with occupation anticipated by autumn 2022.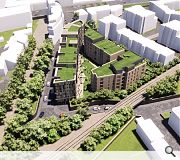 A planted roofscape will help to improve biodiversity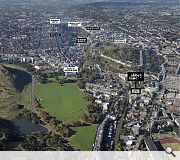 Demolition of the current industrial estate is expected shortly
Back to March 2020