Shetland Space Centre readied for take-off
March 9 2020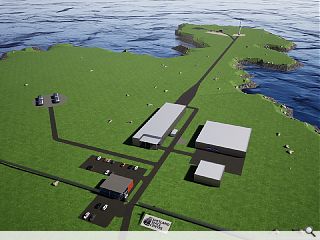 Shetland Space Centre (SSC) is to open a public consultation this May over plans to erect a rocket launchpad on Unst ahead of the submission of an application for full planning consent in June.
The remote Aecom designed spaceport will consist of a vertical launch facility, mobile tracking stations and associated assembly hangars at Lamba Ness after securing a £2m investment from private equity firm Leonne International.
Designed to fire small satellites into low Earth orbit the facility follows plans to build a similar launchpad at A'Mhoine Peninsula, Sutherland.
CEO Frank Strang said: "After a three-year battle to win recognition for Unst's position as a prime location for launching small vertical rockets into space, we are now in a position to go to the public with our proposals.
"We have been delighted with the tremendous support we have had in Unst and hope that as many people as possible can make it to the exhibitions. If you can't make it along, you will be able to comment online."
As part of the broader plan a separate application will also be filed for a launch control room within the Saxa Vord resort complex, location of a public exhibition on the proposed plans running from 5-7 May between 12:00 and 19:00.
Back to March 2020