New lease of life for Glasgow college tower
|
Send to friend
January 13 2020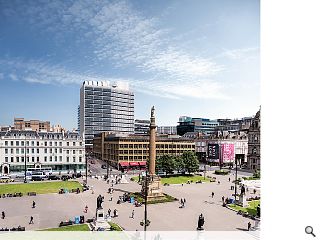 The former College of Building and Printing in Glasgow is to begin a new lease of life as grade A office space in a joint venture between Osborne + Co and Scotsbridge Holdings.
The B-listed Metropolitan Tower will be subject to a full 'defurbishment' at the hands of Cooper Cromar architects to provide accommodation for 1,200 office workers in conjunction with up to 30,000sq/ft of retail, leisure and food & drink outlets within a co-working market hall.
In a statement Osborne & Co wrote: "A complete 'defurbish' of the space will transform Met Tower, creating a cultural-economic hub that can accommodate up to 1,200 employees, connecting work, life and play in the heart of the city, boosting the economy , bringing a major part of the city skyline back to life and creating an icon."
In 2014 vinyl film was applied to the exterior of windows across seven floors of the building carrying 'People Make Glasgow' branding. Initially intended to remain in-situ for two months it currently remains in place.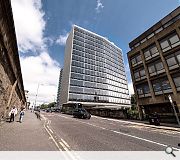 Facades will be cleaned and repaired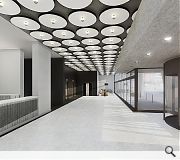 Interiors will be stripped back to reveal the strcuture of the city centre landmark
Back to January 2020