Egyptian Halls owner raises fears of potential structural collapse
|
Send to friend
January 13 2020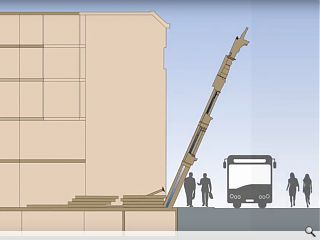 The owner of Glasgow's at-risk Egyptian Halls has warned of the potential for structural failure that could knock out power supplies to Central Station and the surrounding area and endanger traffic on Union Street.
The dire warning is contained in the latest update on efforts to conserve the landmark and lays bare the cumulative effects of inaction following 40 years of vacancy, during which time continued deterioration of the building fabric has gone largely unchecked.
A video posted by Union Street Properties warns of the 'very real threat of structural collapse' with an estimated 85% of the current structure needing to be replaced to stave off the potential failure of floor slabs, supports and beams. Which could precipitate collapse of the roof and front façade through a loss of structural integrity and lateral restraint.
A graphic demonstration of this 'catastrophic' risk is presented in the form of the façade collapsing onto Union Street together with secondary fears relating to the failure of parapet stonework which could present a fall hazard to pedestrians, a concern which has led to the installation of scaffolding as a precautionary measure.
Outlining the worst case scenario the report warns: "The Scottish Power substation in the basement of no.88 Union Street is the lynchpin of electricity supply for Union Street, Gordon Street, Mitchell Street, Argyle Street and Central Station.
"Any building collapse could knock out the electricity supply for the surrounding area causing massive disruption."
The warning comes just weeks after the Egyptian Halls was named as being among the seven most endangered buildings in Europe. The Egyptian Halls have been shrouded in scaffolding for over a decade to mitigate against falling stonework.
Back to January 2020