Ayr amenity housing to revitalise town centre
January 6 2020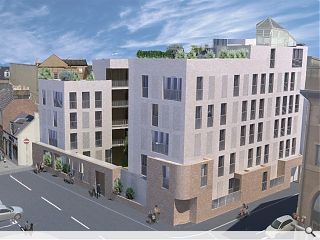 Ayrshire Housing Association has firmed up plans to create 31 homes in the heart of Ayr with a full planning submission for their Carrick Street build.

Conceived in partnership with Alloway, owners of the Kyle Centre and Arran Mall, the gap site plan is being spearheaded by local practice ARPL to provide high amenity accommodation primarily geared toward the elderly.

Currently languishing as a car park the existing site sits within the historic core of the town in an area marked by haphazard modern development that has grown out of step with the established urban grain.

In its place would rise two wings of accommodation aligned with neighbouring streets, each flanking an entrance courtyard incorporating low-level planters to encourage gardening. Fully accessible roof gardens will also be formed to further seed a community spirit among residents.

Outlining their site strategy the architects wrote: "Rather than presenting a full-height elevation on Carrick Street which would dominate the street we have reinforced the street line with a single storey screen of accommodation of similar scale to the adjoining buildings.

"The higher blocks of flats then step back around a courtyard to align with the higher buildings of the shopping centre and office block. This approach maximises the amenity for the residents with all flats opening into the central landscaped courtyard."

Carrick Street will employ a mix of facing brick for exterior facades with interior courtyard surfaces clad in timber panels.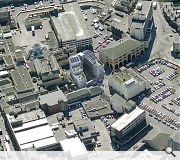 A brick boundary wall will reinforce the street edge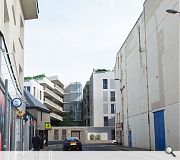 A glazed staircase and shared balconies will bookend the view from Boswell Park
Back to January 2020