Funding in place for Glasgow Airport light rail link
January 6 2020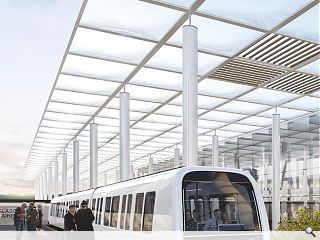 Glasgow Airport could benefit from a Copenhagen-style automated Metro connection following an agreement between Glasgow and Renfrewshire Council's to fund a new Metro-style connection to Paisley.
The latest iteration of long-held plans to plug the airport into the rail network would see a spur track laid to Paisley Gilmour Street.
If built this would serve as the backbone of a potential city-wide network to connect areas presently ill-served by public transport.
The Glasgow Metro plan first emerged in a report compiled by Glasgow's Connectivity Commission, which recommended Transport Scotland take the lead on delivering such a link by 2025 before extending east through Renfrew, Braehead, Govan and Pacific Quay toward the city centre.
No preference was given for the technology choice on the line however with possibilities including a hybrid segregated street-running light rail system similar to that employed in Porto.
In its original report, the commission observed: "That all but one of Glasgow's major hospitals, its airport and several key urban regeneration areas are removed from the fixed public transport network makes getting to those places people want to be more difficult than it should be and constrains the economy as a result.

"… it is no longer appropriate to conceive a rail link to the airport as a freestanding project: rather, it is imperative that it is developed as the first stage of a wider strategy to transform the fixed public transport network for the city and region as a whole."

If realised it would be the first-time light rail would operate in the city since its historic tram network was dismantled in 1962.
Back to January 2020