FM Group power up landmark Cathcart homes
October 30 2019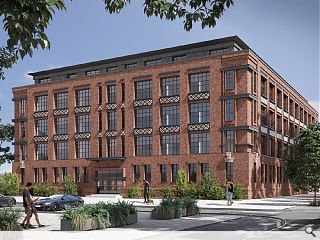 FM Group has commenced work on the second phase of a major residential development in Glasgow's south side with the conversion of the B-listed Cathcart House to form 73 apartments.
The red-brick landmark is being overhauled to designs by Cooper Cromar and will include an internal landscaped courtyard while retaining period features dating from its creation in 1916 at the hands of Sir John James Burnet.
Latterly occupied by Scottish Power before their departure to a new HQ in Glasgow city centre in 2017 the imposing building now forms part of a £40m redevelopment which will preserve the original hallway, marble staircase and decorative balustrades.
Robert Croll, sales manager at FM Group said: "As a listed building Cathcart House preserves several majestic aspects of its original design, such as its hallway entrance and original decor."
Initially built by the Wallace Scott Tailoring Institute the building was later extended in 1922 before becoming the headquarters of Scottish Power in the 1950s.
Back to October 2019