Kirkcaldy waterfront regeneration now underway
November 5 2019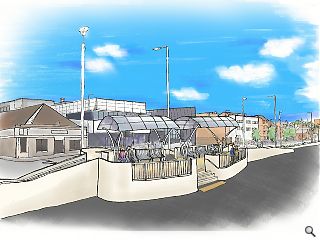 Fife Council have moved on-site with a waterfront regeneration project in Kirkcaldy which seeks to improve connections between the town centre and the Firth of Forth.
The £1.6m initiative entails four key interventions including rationalising the current road layout to favour pedestrians and the construction of seafront viewing shelters and seating. Key to this approach will be the conversion of a dual carriageway along the current Esplanade to a single two-lane road and the introduction of new pedestrian crossings.
Streetscapes are also being upgraded with natural stone finishes, street furniture, planting, lighting and improved signage.
Cllr Neil Crooks commented: "Unfortunately, over time Kirkcaldy town centre has turned its back on the coastline. This exciting project has been a long time in the making and looks to capitalise on one of the town's greatest assets once more – its views over the Forth.
"As it is, the dual carriageway encourages drivers to by-pass the town centre. This project aims to encourage those using the Esplanade to make use of the spaces that are being created for pedestrian and social interaction instead."
Phase one of this work will see the removal of raised central islands on the Esplanade which is expected to take around 12 weeks to complete.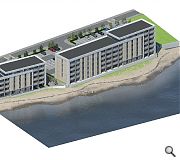 Planned additions to the waterfront include this 59 home apartment block by Norr
Back to November 2019