LBA lodge plans for Duddingston homes
November 5 2019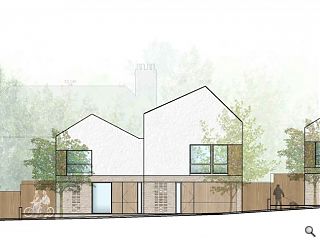 The grounds of a Victorian villa off Edinburgh's Duddingston Road West have been earmarked for eight semi-detached homes by Stone Acre and LBA.
Cairn Lodge in Duddingston currently sits within extensive gardens stretching to Meadowfield Terrace but under the plans, a strip of land to this northern edge will be ceded to three pairs of semi-detached homes, with a further single pair of homes earmarked for the southern street edge.
Each property will be finished in render punctuated by a feature window and timber panel inlay above a brick base course. This use of timber extends to the front door and integrated garages.
Detailing the chosen elevation treatment LBA wrote: "The semi-detached pairs are composed of two house types which vary in height and fenestration pattern creating a dynamic street presence. The two house types share a consistent material palette which has been selected to create a contemporary aesthetic whilst respond to the surrounding context."

Steeply pitched slate roofs reflect the predominant style of the conservation area with each home kept below the prevailing ridge level.
Back to November 2019