Princes Street Gardens vision scaled back following public feedback
November 4 2019
The Ross Development Trust have published fresh images of a high-profile reimaging of Edinburgh's Princes Street Gardens which would see the central public space transformed into an events space.
The £25m initiative would see the current Ross Bandstand replaced by a 6,000-seat amphitheatre, visitor and hospitality suite overlooking Edinburgh Castle and a family area located to the west of the Ross Fountain.
Dubbed The Quaich Project these additions are intended to sit incongruously within the surrounding landscape with only a glazed screen betraying the insertion of new events pavilion.
The Trust has been actively fundraising to realise its plans for the past year, raising £6.5m to date, in which time a number of changes have been carried out to the competition-winning design including scaling back a proposed 'welcome centre' on Princes Street by lopping off the top floor and reducing the volume of glazing.
Other amendments include further rationalising footpaths and the replacement of an existing concrete amphitheatre with grass. A formal planning application for the venture is expected to be lodged in March following a further round of consultations.
New York-based practice Why were appointed alongside GRAS to deliver their winning design for the gardens in August 2017.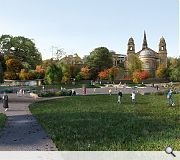 A new family area will be created to the west of the restored Ross Fountain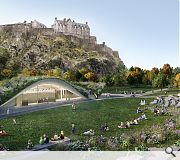 The balance of seating to grass has been adjusted to retain the look and feel of the valley
Back to November 2019