Fundraising underway for £25m Princes Street Gardens vision
March 21 2019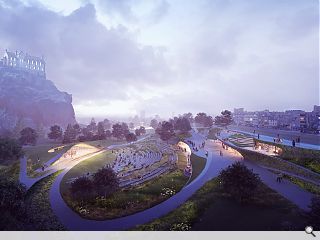 A fundraising campaign has been launched to raise capital in support of a wholesale reimagining of Princes Street Gardens to create a landmark destination at the foot of Edinburgh Castle.
The Quaich Project is the brainchild of the Ross Development Trust which aims to establish a new venue on the site of the current Ross Bandstand.
GRAS and wHY emerged as the winners of a design contest for the gardens back in 2017 but detailed design work has stalled amid concern over maintenance costs. Resolution of these issues by allowing the council to retain control of the site will now see detailed design work undertaken over the next few months with a formal application being submitted early in 2020.
Under its stewardship, the City of Edinburgh Council has pledged to host no more than five major events in the grounds each year, during which public access would be limited.
Trust founder Norman Springford, who is prepared to put £5m toward the build, said: "The renewed gardens will offer a more enjoyable and pleasant experience for everyone, whether they're looking for a quiet place to stop and rest, want to enjoy a walk in the shadow of one of the world's most iconic castles, or want to enjoy a performance in a stunning venue."
Years of fundraising lie ahead before the vision has any chance of becoming a reality until 2023 at the earliest.
Back to March 2019