Last ditch housing bid for ruinous Coatbridge Church
October 28 2019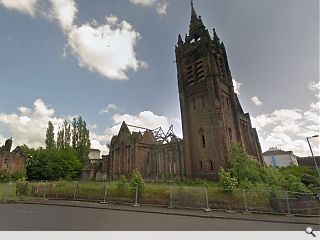 A landmark Coatbridge church tower could be saved under new plans brought forward by Entasis Architecture to erect a new flatted development within the grounds of the fire damaged Dundyvan Parish Church.
The B-listed has languished on the Buildings at Risk Register since 1995 with a succession of failed housing bids coming and going over that time.
The latest scheme envisages substantial demolition to the red sandstone church and an associated manse, retaining only the tower as an access stair for some flats as well as the western elevation.
This follows the collapse of the church roof and interior floors due to prolonged exposure to the elements.
Justifying this approach the architects wrote: "The scale of the development and its roof profile have been arrived at to reference the scale and ridge height of the old church, ensuring that the visibility of the tower is not compromised and the residential block neither dominates nor is dominated by the tower."
Associated iron railings, boundary walls and gates will also be retained as part of the works.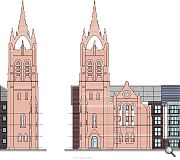 Built in 1905 the gothic church tower could be repurposed as an access stair
Back to October 2019