Flagship health & wellbeing institute tweaked in wake of post-submission feedback
October 28 2019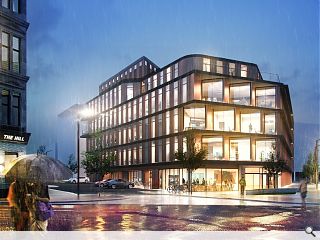 Atkins has posted updated designs for the University of Glasgow's flagship Institute of Health & Wellbeing, in response to post-submission feedback from their initial application.
These changes centre on alterations to façade elevations and proportions to increase the apparent height of the ground floor by thinning structural bulkheads to allow an increased level of glazing.
Further refinements have taken place in the fenestration of the roofscape which now adopts alternating solid and louvred panels to better mask plant equipment and sync with the body of the build.
Elsewhere the façade material for a corner roof terrace has been harmonised by employing the same red/brown anodised aluminium cladding as employed elsewhere on the build together with a newly curving corner element.
The new institute will take its place opposite a planned research hub at New University Square sharing similar architectural principles.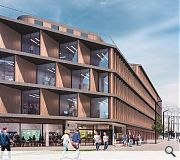 The changes focus on the groundfloor and roofscape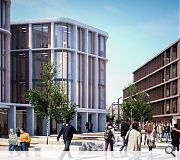 The work will see the university's centre of gravity shift south
Back to October 2019