Doune Castle footbridge to serve as timber demonstrator
October 28 2019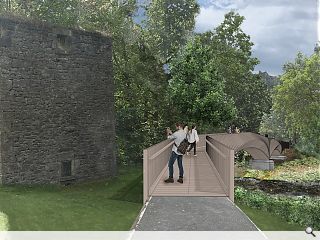 Historic Environment Scotland have lodged plans for the reinstatement of a pedestrian connection to Mill of Doune via a new footbridge spanning the Ardoch Burn.
Part of a broader upgrade of the path network at Doune Castle the work has been necessitated by a growing number of visitors placing the attraction under siege, prompting the Rural Tourism Infrastructure Fund to provide funding in order open up access to improve wayfinding and infrastructure.
The 20m link has been developed in conjunction with Fairhurst and Geoff Southern Rural Bridges and will take the form of a series of structural mass timber arches manufactured off-site at the Construction Scotland Innovation Centre (CSIC).
These will be fixed to concrete piers dressed in stone with sculptural timber guarding chosen to accentuate the arched profile below.
In a statement HES wrote: "CSIC are currently leading a national project with partners Scottish Forestry, Scottish Enterprise and Edinburgh Napier University to understand the commercialisation of Scottish homegrown engineered timber. This pedestrian bridge is therefore an ideal demonstrator for inclusion within this research project."
The bridge will utilise an innovative construction method involving the attachment of vertically laminated timbers via glue and screws to fashion a single solid mass of timber.
Back to October 2019