Brutalist Edinburgh car park earns B listing
October 25 2019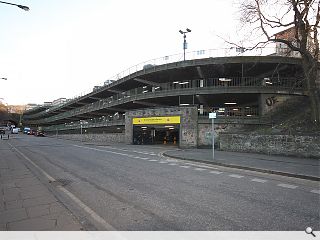 Historic Environment Scotland has awarded B-listed status to a brutalist car park at the foot of Edinburgh Castle in recognition of its innovative construction.
Dating from 1966 Castle Terrace car park is considered to be the earliest example of modern multi-storey construction in the country and has been praised for its sleek deference to its surroundings.
The listing also recognizes societal shifts evidenced by the new building typology in response to rapid increases in car ownership over the post-war era.
Elizabeth McCrone of HES commented: "While there is a love-hate relationship with architecture built after the Second World War, these buildings have an important part to play in telling Scotland's story.
"Interest in these buildings is growing rapidly and we frequently receive requests from the public asking us to look at this aspect of our heritage."
HES have increasingly turned their attention to postwar examples of architectural innovation, notably with the award of an A-listing to Leith's Banana Flats.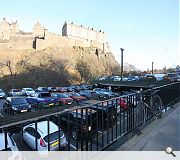 Motorists won't have far to travel to see Edinburgh's newest attraction
Back to October 2019