Dishy Leith flats lauded with category A listing
February 1 2017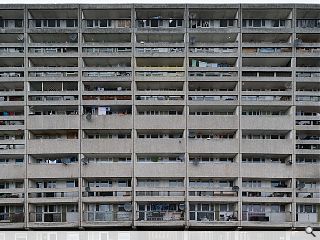 Historic Environment Scotland has chosen to recognise a Brutalist public housing duo in Leith with its highest listing category possible after
conducting a consultation
with tenants.
Since being built in the 1960's the grey edifice of Cables Wynd House and Linksview House have become local landmarks in their own right; particularly the kinked profile of the former, colloquially known as the Banana Flats, which attained global infamy after being committed to celluloid for Trainspotting.
Lauding the twins as being of 'national or international' significance Dawn McDowell, deputy head of designations at HES, said: "In the early 1960s a new, higher quality, and more holistic approach to housing schemes was being pioneered, inspired by housing schemes in France – which aimed to create not just houses but communities. Cables Wynd House and Linksview are amongst the best examples of these schemes, with their use of external access decks as a way of recreating the civic spirit of traditional tenemented streets, and the inclusion of modern features like lifts and heated flooring helping to lift living standards for the residents.
"Cables Wynd was the largest block of flats in Edinburgh at the time, and possibly the most accomplished architecturally, characterising the 'New Brutalism' in building, which laid bare the essential materials of a building's construction, using reinforced and in situ concrete."
Professor Miles Glendinning, director of the Scottish Centre for Conservation Studies, added: "These two blocks abundantly merit their listing at Category A, because they combine international excellence in modernist urban design with an attention to the spirit of place that is specific to Edinburgh, especially to the 'conservative surgery' concept of urban renewal, pioneered by Patrick Geddes around 1900.
"Edinburgh's post-war multi storey social housing redevelopments were designed to fit into small, highly constrained sites. I believe that Cables Wynd House in particular, was built in its distinctive curved shape as a creative solution to the constraints of that particular site. Along with Linksview House, it represents an outstanding synthesis of international modernist architecture with Geddes's 'conservative surgery' principles."
Cables Wynd and Linksview are the 50th and 51st postwar buildings to be designated with an A listing, elevating them to being of equivalent importance as landmarks such as the Forth Road Bridge and The Royal Commonwealth Pool.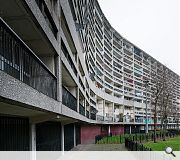 A kinked profile lends the Banana Flats their memorable aphorism
Back to February 2017