Historic Isle of Lewis school begins museum life
October 16 2019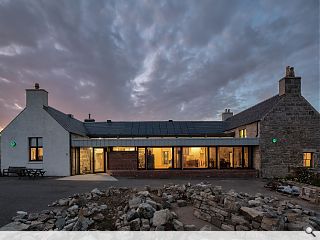 A historic school on the Isle of Lewis has begun a new life as a centre of local history following an £810k transformation at the hands of Bard Architects and Neil Mackay & Co.
Comunn Eachdraidh Nis occupies the former Cross School buildings which date back to 1879 and had at one time been threatened with partial demolition before the local historical society took ownership.
The work has seen interior spaces reorganized to afford greater flexibility as a public exhibition space, augmented by some partial incisions and extensions to create a new frontage and bring natural light deep within.
Other additions include red brick screens banded in traditional Scots-bond as an echo of the nearby Butt of Lewis Lighthouse which act as display stands for items such as the c. 10th century Rona Cross which takes pride of place in the new museum.
The architects also designed bespoke Smetal shelving and gates throughout the exhibition spaces.
Architect Ruairidh Moir said: "We are delighted to finally see the public and our client inhabit and enjoy the former School in its new configuration once again and we are proud to have saved a significant building for the local community by adapting it to a new use."
The second phase of work will now see new landscaping introduced around the centre.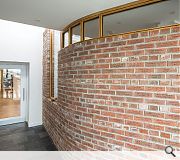 An engraved brick wall harks back to the lost tradition of brick construction on the island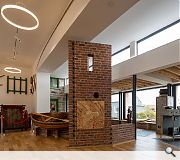 The school buildings have been expanded to provide the required floor space
Back to October 2019