£1m Isle of Lewis Museum extension to break new ground
|
Send to friend
March 2 2018
A £1m reconfiguration of the Sgoil Chrois Museum and archive on the Isle of Lewis is set to swing into action within the next fortnight, with Bard Ailteir Architects sensitively updating the historic Victorian school building to provide flexible open plan accommodation.
Working with the existing horseshoe structure main contractor Neil Mackay & Co will make careful incisions into the existing fabric where required, alongside targeted demolition, to allow creation of modernized interior spaces specified by museum owners Comunn Eachdraidh Nis.
New additions have been designed to be subservient to the existing fabric with volumes kept below that of the former school buildings.
Project architect Ruairidh Moir, commented: "It has been a great privilege to be involved in this very exciting and transformative project for Comunn Eachdraidh Nis. We feel that the project as envisaged will be of huge benefit to the wider community, and also secure the former Sgoil Chrois building for future generations."
Sgoil Chrois occupies the former Cross Primary School which was converted by the Comunn Eachdraidh to form a museum in 2011.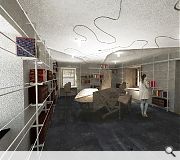 Cellular classroom spaces will be knocked through to form open plan galleries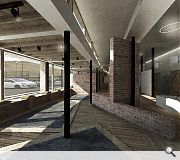 Contemporary additions will defer to the 1878 school buildings
Back to March 2018