St Andrews townhouse quartet teed up
October 8 2019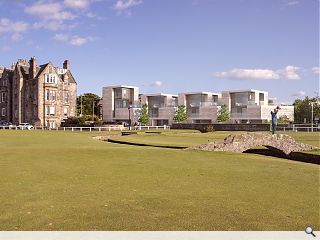 Sutherland Hussey Harris have filed plans for four townhouses in St Andrews with some of the best views of the Old Course following their work at West Burn Lane.
Each 210sq/m property will be finished in handmade clay bricks with the upmarket properties making the most of coastal views with expansive glazing and terraces.
In a statement the practice wrote: "The townhouses are organised so that one taller, tower like element addresses the urban setting facing towards the town centre, with a row of three similar units stepped back along the site looking across the golf course.
"Horizontal banding across window reveals and lintels is created using terrazzo. This material has the strength of concrete, which gives the rationale for its structural use, but has a quality of stone, like that of granite, which provides a finesse for these articulated areas."
Sutherland Hussey Harris won the commission following a limited design competition organised by the owners of an existing 1960s home on the site.
Back to October 2019