Urban Realm 39 hits the streets
October 9 2019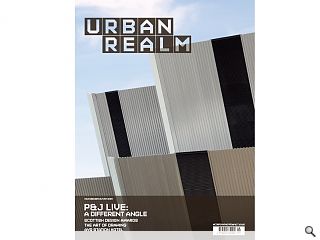 The changing of the seasons affords an opportune moment for Urban Realm to assess the growing importance of the leisure economy in our latest issue, as cities scramble to capitalise on discretionary spending. Late to the party comes Aberdeen, hoping to diversify and capture a slice of the burgeoning business and leisure market with P&J Live, a folded palace of sheet metal designed to attract and retain key exhibitions and events. We gauge the likelihood of success.
On the other side of the coin a long hot summer has seen tensions flare between locals and tourists from Skye to Edinburgh; fueling talk of new taxes and a clampdown on Airbnb owners but can we reshape the fabric of our historic cities and beauty spots to better accommodate everyone?
Ayr's flagging fortunes as a holiday destination and competition from more exotic locales has taken its toll on Ayr's Station Hotel which finds itself threatened with demolition. Sean Kinnear takes stock of the faded elegance of a bygone age, documenting the buildings continued importance to the vitality of the town.
Off the tourist trail, we report on Shettleston in Glasgow which has become an unlikely proving ground for a construction revolution with the delivery of the first Passivhaus homes in the city. We assess the prospects for further take-up by housing associations and the private sector.
Elsewhere you will find twin reports on the varying fortunes of public art and drawing which prove that the best mediums for reaching people directly are often the simplest.

Back to October 2019