Hotel conversion for Morris & Steedman-designed offices secures planning
August 19 2019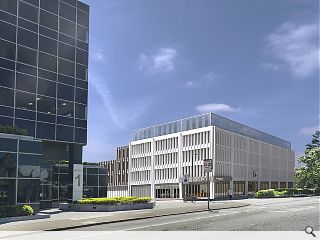 The City of Edinburgh Council has granted planning consent for the conversion of a 1970s office block originally designed by Morris & Steedman to form a 157-bedroom hotel.
Proposals were lodged last August by CDA on behalf of S Harrison for the venture, which would transform the current Osborne House in the Wester Coates area of the city.
Ann Scott, S Harrison's managing director, commented: "We will be retaining the current structure and facades of Osborne House but repairing and refurbishing the entire building as well as creating a new top floor, which looks out over West Coates. The new high-quality glazed façade will create a lightweight feel, and we are confident the development will blend in with the surrounding environment.
"We will also be replacing a single storey building on Devon Place with a new extension at the back of Osborne House that will have an aluminium-clad façade, with projecting narrow fins, to provide a modern interpretation of what's already in place.
"Replacing the dated elements of Osborne House, which has been largely unoccupied for the last 3 years, with a vibrant new hotel will not only create employment opportunities but reinvigorate this tired old building and give it a bright new future."
Soft landscaping will also be introduced to the front and rear to provide a welcoming entrance and drop-off point.
Back to August 2019