Inverness Victorian Market to make a good first impression
August 20 2019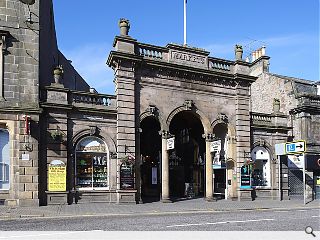 An ornate entrance point to Inverness Victorian Market has received £43k in funding from Inverness Townscape Heritage Project and the Inverness Common Good Fund to preserve the Academy Street frontage.
Designed by Matthews and Lawrie in 1869-70, the opulent B-listed façade stands upon two Corinthian columns framing three central arches capped by a balustrade flanked by carved urns on each wing.
The restoration will reverse the deterioration of the stonework via replacement of carved details and stone idents together with the removal of redundant metal fixings.
Jo Murray, manager of Inverness Victorian Market, said: "Following the almost complete destruction of the Market in 1889, the façade entrance on Academy Street is the only original part that survived. It will be wonderful to see this historic entrance being restored to its former glory and be able to appreciate the fine stonework detail of the Corinthian column tops and to see the animal head designs clearly again."
The eight-week refurbishment will herald a full programme of repairs and improvements to the markets proper.
Back to August 2019