Glasgow green lights 388 Gorbals homes
August 19 2019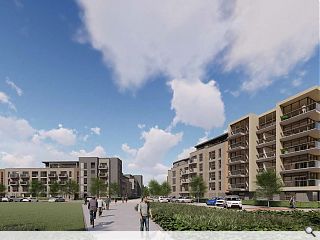 Glasgow City Council has awarded planning consent to Craighead Properties for the erection of 388 homes on brownfield land bounded by Cathcart and Caledonia Roads.
Taking the form of five blocks of flats arranged around a central amenity space the Cooper Cromar masterplan seeks to establish a network of shared streets and 'nodal corners'.
Serving as an extension of the Crown Street regeneration the plans will see blocks 'distanced' from arterial roads by a landscaped 'perimeter buffer zone' to the north and west, allowing large ground floor gardens to be provided for residents.
Outlining their vision in a design statement the architects wrote: "The high quality contemporary architectural style of clean lines and hierarchy of large living space balconies, window openings etc reflects a modern lifestyle both externally and internally with open plan living space exploiting views both within the development and to the wider city views especially from upper levels.
"Feature vertical contrasting facing brick corners emphasise nodal spaces which connect at ground level to the shared surface street and landscaped public amenity space."
Flats will be finished in a uniform palette of textured brick and metal-faced cladding.
Back to August 2019