Military-grade Gairloch Museum has tourists in its sights
August 19 2019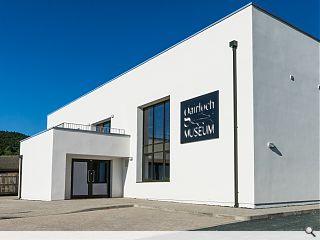 An unprepossessing Highland Council depot, originally built as an air defence command centre during the 1950s, has begun a new lease of life as a museum.
Officially opened on 9 July by Gairloch and District Heritage Company the Gairloch Museum retains the rough and ready aesthetic of the military build to provide an appropriate canvas for the display and interpretation of items relating to the area's history.
This retains the character of the Anti-Aircraft Operations Room (AAOR) while fully utilising its scale to bring a treasure trove of objects into public view for the first time, the centerpiece of which is a Fresnel Lens removed from the Rubh Re Lighthouse at Loch Ewe in Wester Ross.
Outlining their approach LDN Architects wrote: "The AAOR is a concrete box inside a concrete box, built in the 1950s as a command centre that would withstand the effects of a hydrogen bomb blast. Although never kitted out, it is an extraordinarily tough construction and we had to take care in considering where and how that might be changed. The outcome delivers a very precise exercise in plan with few external changes but, where change has been made, effected with utility and drama to the fore.
"In essence, the exterior has been dressed to maintain and enhance the monolithic block of the AAOR with the original blast wall reimagined to form the new entrance. That is set in stark contrast to the interior, which was grit-blasted back to the original concrete throughout. The nails that once held the formwork for the concrete roof have also been left in place - now, other than the walls, the oldest visible pieces of the building."
The museum follows completion of a visitor centre in the Gairloch to serve both tourists and locals.
Back to August 2019