CALA declutter historic former Blind School
|
Send to friend
January 18 2019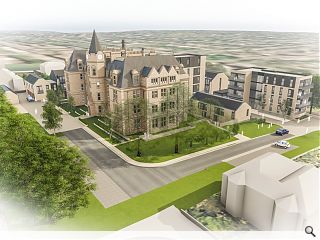 The Royal Blind School in the Craigmillar Park conservation area of Edinburgh is to be rejuvenated as a new residential development, repurposing the C-listed main building with further development within its substantial grounds.
Michael Laird Architects with CALA are leading this effort with the aim of restoring 'clarity' to the main building by stripping back later extensions scattered around the 3.5-acre site, improving its setting and rationalising vehicle movements.
Fleshing out their approach the architects wrote: "In simple terms there are three building types; the existing building, the townhouse/mews buildings and the apartment blocks. Each of these types have been allocated a separate identity.
"The existing building has been freed of most of the 'clutter' and, for the most part, stands comfortably as a separate building; the townhouses/mews buildings have all got pitched roofs and have stone clad frontages and gables with modern dormer windows; the apartment blocks have flat roofs and high-quality brick facades."
Accommodation will include a mix of villas, townhouses and mews apartments with a view to extending existing street frontages, framing views and completing the suburban block.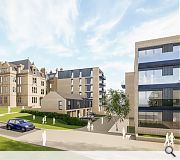 New build additions will be faced in a mixture of stone and brick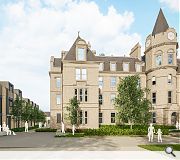 The C-listed school will be restored to its original appearance
Back to January 2019