Boroughmuir High School extension set for go-ahead
|
Send to friend
July 26 2019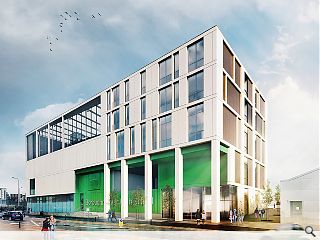 The City of Edinburgh Council is set to give the go-ahead to a £4m extension at Boroughmuir High School just 18 months after it first opened its doors due to pupil demand.
Planning officers have recommended approval for a five-floor addition designed by Holmes Miller which will be integrated to the current school along Dundee Street, incorporating a ground floor flexible studio space which will be made available for community use, with 12 classrooms stacked above.
Outlining their approach the architects wrote: "To retain the civic, stand-alone quality of the existing building the proposed extension replicates closely theelevation treatment and materials of the existing school, continuing the horizontal banding and random panel treatment.
"The green soffit to the Dundee Street recess is continued and accentuated with a colonnade affront of the recessed ground and first floor levels. North facing classrooms replicate those of the east façade, whilst south-facing classrooms mimic the west-facing classrooms, with openable glazing and external bris solais."
The new extension should be completed by August 2020, facilitating an increase in capacity of 300 pupils by 2027.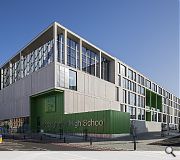 The proposed extension has been labelled as 'acceptable' by planners
Back to July 2019