Atelier-M to bring Colony-style homes to south Glasgow
|
Send to friend
July 25 2019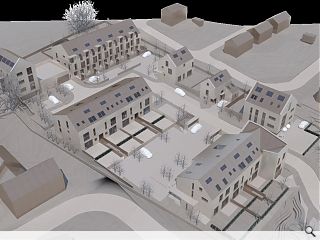 Atelier-M Architecture + Design have authored proposals to build 32 dual-frontage homes at Barrhead Road, in the Hurlet area of Glasgow.
The former council maintenance depot was purchased by John Wright Properties in 2014 since which a former two-storey stone house and steadings have been demolished to allow linear blocks to be built.
Utilising the natural slope of the site with stepped sections the scheme to help conceal undercroft and podium parking with all properties finished in buff facing brick.
The linear blocks are designed to be dual frontage and the obvious precedent for this is 'Colony' style housing. Albeit that this is not necessarily a typical housing form in Glasgow than it is in Edinburgh, the concept being developed with the section seemed appropriate. Due to Glasgow City requirements dissuading against open staircases, the vertical access to the upper flats have evolved into close staircases.

"The sections of the housing from Camden Council housing of the 1960s and '70s were also influential for this project, though the client requirement for pitched roofs did not allow for any roof terraces."
Spanning seven separate blocks it is anticipated that the development would be built in a rolling program of work.
Back to July 2019