Flemish-inspired homes woven into Pollokshaws streetscape
July 11 2019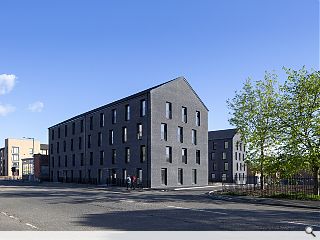 An innovative apartment scheme comprising 24 flats designed around user customisation has been completed at Ashtree Road, Pollokshaws, the first major scheme to be completed by Graeme Nicholls Architects since their formation in the summer of 2016.
Delivered on behalf of the Home Group and Merchant Homes Partnerships the development is split between a 'tenement' and 'villa' element, each taking inspiration from Flemish architecture and the textile industry in a conscious nod to the past migration of skilled workers from Europe.
In practice this takes the form of a 'woven pattern' formed by the window arrangement as well as the use of Flemish bond and textures in the black brick cladding, subtly alluding to a cosmopolitan past.
Graeme Gemmell, delivery manager for The Home Group, commented: "We were excited to see an approach which recognised the links with the Flemish weaving community which had established itself in Shawbridge in the 19th century and we later met residents in the area who had some connections to this community.

"Graeme's incorporation of some elements which reflect this heritage was cleverly done without delivering anything clichéd."

Nicholls added: "Our design is realised as two blocks, which synthesise the prevalent typologies found on each street- a 'Tenement' block to Ashtree Road, and a 'Villa' block to Christian Street. These two blocks are placed at the site boundaries, aligned with the splaying angles of the roads. This configuration provides a strong urban edge while also enclosing a private rear court which overlooks the neighbouring Ashtree Park."
The new homes occupy the site of public baths demolished in 2010.
Back to July 2019