Dykes of Gray brings 'village' life to Dundee
July 10 2019
Springfield Properties have completed work on a self-contained 'village' on the western outskirts of Dundee which includes its own playparks, shops and café as well as commercial opportunities for nurseries, hairdressers and pharmacies.
Dykes of Gray has been designed as a self-contained community close to the city centre with its own village green and public art set among a variety of cottage flats and apartments.
Springfield Properties central sales director, Tricia Malek, commented: "We are building a mix of high-quality homes and shops and creating business opportunities at Dykes of Gray – everything the community needs, right on its doorstep. Dykes of Gray is a new place that people are already proud to call home. Children will grow up here, buy their first home here and have a family of their own here, surrounded by friends and family."
All properties are finished in dry dash and smooth render with small areas of masonry and timber, flat profile roof tiles or slate and grey windows with natural timber cladding.
Prospective purchasers will be invited to specify whether they prefer an open or closed floor plan or even add a sunroom to their chosen home before picking up the keys.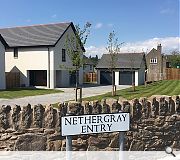 Large four bedroom detached properties are also on offer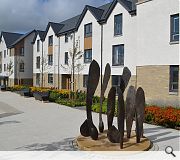 Public art has been installed on-site
Back to July 2019