Pollokshaws housing plans scrub up well
January 10 2017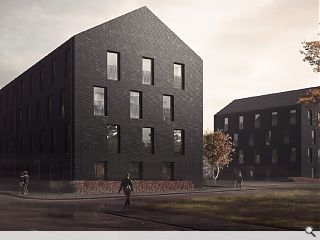 Graeme Nicholls Architects are looking to clean up with the preparation of plans for
24 flats on behalf of Merchant Homes Partnerships
on the site of the former Pollokshaws Baths, Glasgow.
The proposed scheme will reinstate an 'urban edge' to Ashtree Road and Christian Street with twin tenement and villa-scaled blocks which reference 19th century immigration of Flemish weavers by employing Dutch-style gables and facing brick.
Outlining these influences Nicholls stated: "Our design includes the subtle use of a number of Flemish architectural tropes including the use of gables and facing bricks. Furthermore, we have incorporated a repeating motif of 'woven' materials – in the pattern making with the placement of the windows on the façade, use of Flemish bond and projections on feature brick panels, two tone setts used in the hard landscape, through to the proposals for the metal balcony railings."
Work on-site could be in progress by the spring for completion in early 2018,
complementing ongoing regeneration in the area
.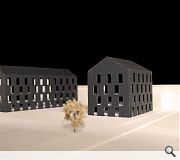 A longer and shorter blocvk will echo a traditional tenement and vill respectively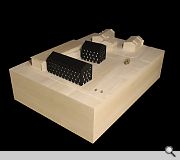 Pollokshaws is in the midst of greater change than at any point since the seventies with numerous regeneration projects underway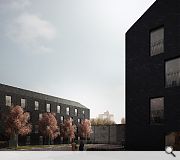 The scheme aims to return a degree of urbanity lost during comprehensive redevelopment in the 1960s
Back to January 2017