Eco-friendly Murrayfield home demonstrates vaulting ambition
July 4 2019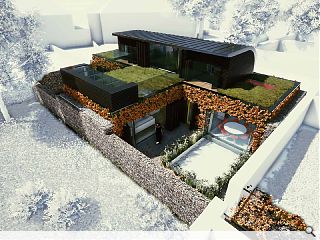 Plans to erect an introverted detached house to Passivhaus principles in Edinburgh's Murrayfield district have been hatched by Cropka Architects for vacant land to the rear of 7 Western Terrace.
The scheme dovetails with alterations to the current semi-detached property to facilitate access and will repurpose land originally set aside for stables and mews accommodation in the 19th century which ultimately never materialized.
Now the plan is to create a low-profile home largely hidden from view behind high stone garden walls with the ground floor area partially buried to further mitigate its impact. Accommodation would be arranged around two private courtyards at ground floor level, overlooked by a 'vaulted' first-floor level, with all windows overlooking the property itself.
A key requirement of the brief was to provide readily adaptable accommodation and in this way, all principle accommodation has been located on the ground floor with two study areas on the first floor being readily convertible to provide space for a live-in carer if required.
Finished in rain screen with feature 'living wall' panels and 'charred' horizontal timbers the home seeks to be as inconspicuous as possible through the use of stainless-steel gabion baskets filled with a variety of local stones.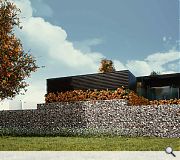 A low profile design seeks to make the home as unobtrusive as possible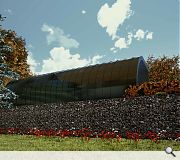 Living walls will help to marry the building with the remaining garden
Back to July 2019