Site clearance completes at Glasgow's latest 'neighbourhood'
July 4 2019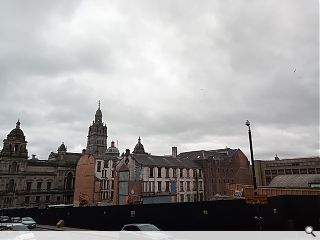 Chris Stewart Group has completed site clearance work for a major mixed-use development in Glasgow city centre, involving the rationalisation of a disparate collection of buildings within spitting distance of the City Chambers.
Described as its own 'neighbourhood' the build would occupy most of a city block and would be dominated by an apartment tower visible from George Square, in addition to a 245-bed AC by Marriott Hotel on the corner of John Street and George Street.
A range of complementary cafes, a studio gallery and bar would face a newly opened lane bisecting the block.
Detailing their vision the developer wrote: "Now known as Love Loan, our plans for the site allow for a mix of complementary uses that will enable retention and refurbishment of much of the listed buildings, which add richness and give character to the site, with new build elements that will repair and reinstate the urban block.
"Our plans are to open up this lane and create an east/west thoroughfare through the development, which will bring a real vibrancy and buzz and give residents, hotel guests and visitors/passers-by an amazing destination to spend time in or pass through."
The £70m project has been overseen by Hoskins Architects and includes retention of two listed buildings on George Street.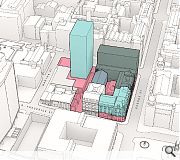 An apartment tower on John Street will soon rise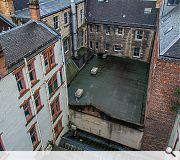 Two prominent listed buildings have been retained
Back to July 2019