Kirkintilloch school to be demolished for new homes
July 4 2019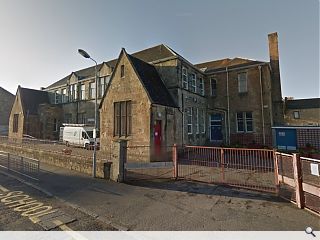 East Dunbartonshire Council has given its consent to the demolition of the former Lairdsland Primary in Kirkintilloch's conservation area, in order to erect 38 flats following the relocation of pupils to a new build school.
Drawings submitted by Coltart Earley Architecture on behalf of the local authority call for the unlisted school to be allocated for new build affordable housing after an alternative route of refurbishing the school was dismissed on cost grounds.
Explaining the decision to demolish and rebuild rather than refurbish in planning documents the practice wrote: "The report summary noted that following completion of a viability assessment that, in order to retain the existing building for the purposes of refurbishment with accompanying new build as affordable housing, there would be a significant shortfall in the Housing Revenue account beyond that normally considered feasible for a social housing development."
Turning to the new build element in their design statement the practice added: "The building facades step to articulate the building form in both the storey height and elevation, with external feature corners expressed in new ashlar sandstone.

"The retention and the reuse of stonework and features from the original building in framing two main entrances from Kerr Street, the reuse of the original stonework combined with retained areas forming boundary walls and reuse of stone gate piers, cast iron columns and original date stones within the landscaped feature courtyard references and acknowledges the conservation area."

In addition to stone, the new homes will sport stepped facades finished in variegated buff brick under a reconstituted slate roof with zinc-clad stairwells.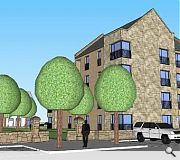 New homes seek to blend in with the conservation area
Back to July 2019