Anderson Bell + Christie embrace employee ownership
June 12 2019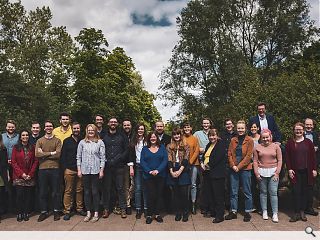 Anderson Bell + Christie Architects have become the latest business to embrace employee ownership with an announcement that 100% of the company's shares have been transferred to an Employee Ownership Trust.
First formed back in the 1990s as a partnership between Karen Anderson and David Christie. A later succession in 2012 saw a new team led by Adam Bell, Bruce Brebner and Stephen Lamb take the helm.
Now, in consultation with Co-operative Development Scotland, the business has evolved again with each of the 38-strong team given a say in the direction of the business and a share of its profits.
Anderson Bell + Christie director Jonathan McQuillan commented: "We feel this ownership model is compatible with our practice's ethos and the values we're committed to of promoting equality, wellbeing and innovation, so we're excited about our future.
"Enabling us to continue building on the success the firm has achieved to date, employee ownership will also open up new and different avenues for us. We'll be in a stronger position to capitalise on opportunities to realise our vision for the company. The fact that staff will now benefit directly from the business's outstanding performance is a great asset – it will help us retain our fantastic experienced professionals and also be able to attract great new talent."
Other practices to have made the switch to employee ownership recently include ADP, David Narro Associates and Page\Park with LDA Design also committed to becoming an employee-owned business.
Back to June 2019