Page\Park complete transition to employee ownership
December 11 2013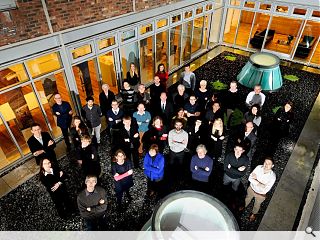 Page\Park architects, the Glasgow practice established by David Page and Brian Park in 1981, has become an employee-owned business.
Since its formation the company has expanded to employ 40 people and now turns over £3.5m a year, a 30 per cent increase over the past two years alone.
Refuting reports that the organisational change was designed to presage a departure of both founders however, the practice said in a statement: "There is no exit plan for David and Brian and they intend to stay with the business as long as it is feasible as employees.
"The reason for moving to an employee owned business is to ensure the business is sustained well into the future."
Page added: "Over the last year we have transformed from a traditional architectural partnership into a 40-strong employee-owned company. The journey, which began five years ago, has been an exciting one and we are looking forward to delivering more exceptional work for our clients in years to come.
"Now, when you speak to anyone in Page\Park, you are speaking to someone with a share in the future of the practice, a belief in its values and a commitment to them: a shared optimism. We are following in the footsteps of the likes of Arup and John Lewis, who have quietly trail-blazed employee ownership over many years.
"We have always been a very collaborative organisation so employee ownership – as well as helping us plan for the long-term, including succession – is just a logical extension of our business model."
The organisational shift was carried out under guidance from Co-operative Development Scotland, the employee ownership support arm of Scottish Enterprise.
Back to December 2013