Mackintosh architecture students reimagine Antwerp, Glasgow & New Lanark
June 5 2019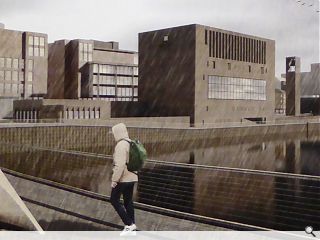 Students of the Mackintosh School of Architecture have focussed their attention on a series of speculative propositions for Antwerp, Glasgow and New Lanark for this year's degree show.
Stage 5 designs were handed the port city of Flanders, Belgium, for their canvas as part of their myths modernity and metamorphosis brief from which a series of plans, section models and other materials have been created for the exhibition.
Stage 4 students meanwhile were handed a brief closer to home at Tradeston and the Broomielaw in Glasgow with instructions to design new housing and urban interventions to help draw the edge locations back into the heart of the city as a creative centre.
Finally, stage 3 students were asked to conceive of a historic boat recovery centre on the River Clyde at Bowling, providing infrastructure for the recovery and restoration of significant vessels.
Last but not least Stage 2 students examined Robert Owen's legacy at New Lanark by bringing forward a range of ideas to accommodate arts and crafts activities, community gardening and the return of specialist manufacturing.
Jane Masters, heritage master at New Lanark Trust and a former student herself, said: " "As the Trust enters the delivery phase of its new World Heritage Site Management Plan, 2019-2023, it is wonderful for us to see the potential, both real and speculative, which others see in the site.
"The Trust has always aimed to run New Lanark as a living and working village, and not merely as a museum dedicated to the past so a project like this, which takes the historic ethos of the site, and applies it to 21st century issues, is food for thought for the future of the village."
The designs will go on public display within the Bourdon Building within the schools Garnethill campus until 9 June with stage 5 designs going on to be shown at Blueprint for the Future in London this July.
Back to June 2019