Aberdeen outlines civic quarter ambition
June 4 2019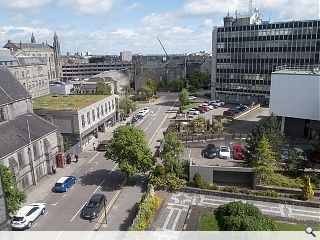 Aberdeen has earmarked the Queen Street area of the city for a new residential quarter situated behind the historic council headquarters as part of efforts to further beef up its urban core following Marischal Square.
Under the plans, the cultural heart of the city, defined by historic assets including the Town House and Marischal College, would be augmented by new homes and public realm all designed to marry with and not compete against existing attractions.
Councillor Marie Boulton commented: "Queen Street redevelopment will progress the themes identified in the City Centre Masterplan and aims to create social infrastructure through city centre living, cultural and civic functions.
"Service demand design, co-location and consolidation of the city's civic functions will ensure efficient delivery is a key driver in how we achieve this."
A planning application has already been filed by the G1 Group and LAS Architecture for the conversion of Greyfriars Church Hall to form a new restaurant, bar and function room together with the construction of a replacement stair extension.
As part of this work the soot-blackened granite façade will be cleaned and restored to match the stonework of Aberdeen's new council HQ within the former Marischal College.
Back to June 2019