Holmes-Miller showcase Marischal College revamp
January 24 2012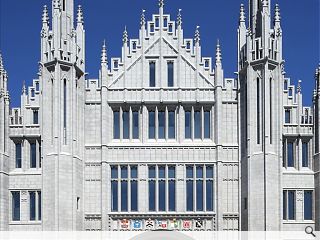 Recently merged architecture practice Holmes-Miller have showcased their work on Aberdeen's A-listed Marischal College following completion of a £40m project to transform the world's second largest granite building into a new home for Aberdeen City Council.
The rejuvenated structure has seen the oak paneled Senate Rooms restored and a quadrangle car park reinstated as a civic space through paving with Caithness and granite flagstones and computerised fountains.
To make the building more efficient two additional floors have been inserted behind the retained façade by lowering floor to ceiling heights and inserting a new zinc clad roof level.
Douglas Jack, Holmes Project Partner, said: "At a time when Scotland was expanding with confidence the 'skyscraper-perpendicular Gothic' style encapsulated both the religious idealism and the civic confidence of the late 19th century Scotland. It was also the ideal style to show what granite could achieve with the delicate tracery and sculpted pinnacles.
"One of the greatest challenges in the redesign of a historic building is how the design and arrangement of internal spaces are suited for a modern environment and how they integrate with existing structure, fenestration and historical details. At Marischal College, Holmes saw this as paramount to the design, and this is evident firstly at the granite arched main entrance, located in the building's six storey high, West Wing.
"While looking at this the newly cleaned building, it reminds us what it must have been like in 1906 at the grand opening ceremony, where the building reached to the sky as an example of ordered purity amongst the drab collection of buildings in the surrounding area and once again Marischal College confidently fulfils its place as an icon of the 'Silver City'. The cleaned granite symbolises the rebirth of this fine building from a vacant and deteriorating college to a new and vibrant local government civic centre."
Photography by
Keith Hunter
.
Back to January 2012