Open plan event space to sit at the heart of Buchanan Wharf
|
Send to friend
June 4 2019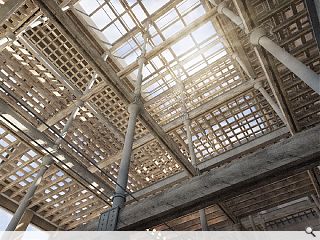 Stallan-Brand Architects have revisited the B listed Kingston House at Buchanan Wharf, Glasgow, after scrapping plans to retain only the building shell in favour of a less invasive 'defurbishment'.
Classed as alteration rather than refurbishment the new moves would strip back later additions to return the building to its original structure and layout, focused on cast iron columns and floor structure within an open-plan ground floor events space.
As a result intervention will be limited to the removal of rooflights to restore the original appearance of the slate mansard roof, to be replaced by a large contemporary rooflight and floor voids drawing light down to a ground floor public space where windows will be replaced by openable bronze doors.
New slim profile double glazing will also be introduced within a repaired sandstone façade.
In a statement the architects said: "In relation to the wider masterplan proposed for the riverfront in Tradeston, Kingston House is centrally positioned, representing the heart of the development. As part of the overall vision for the site, the building has been identified as the main entrance or 'gateway', emphasised with a generously sized and landscaped public square adjacent.
"Variations of this classically proportioned façade, with its distinctive rhythm, order, and solid to void treatment, are articulated in the design proposals throughout the masterplan, establishing Kingston House as the central reference point from which the overall development pays tribute."
Next in line for remodelling is the Beco building which is to be similarly transformed as a creative hub. A planning application is expected in the next few weeks.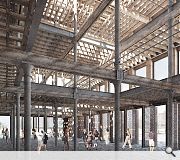 Only the ground floor will remain in use within the stripped back building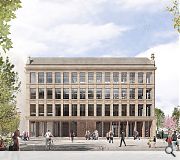 Street level windows will be removed in favour of a series of fully openable bronze doors
Back to June 2019