Aberdeen grants go-ahead to Broad Street overhaul
|
Send to friend
October 11 2016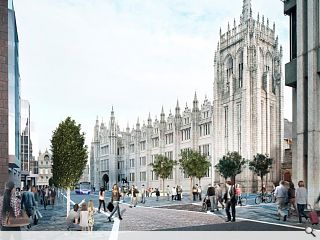 Aberdeen City Council has given the green light to the transformation of Broad Street into a 'pedestrian priority' route extending Union Street to the Gallowgate/Upper Kirkgate junction.
This will see a number of streetscape improvements carried out including a water feature, raised planters, tree planting and seating with traffic restricted to buses only.
Informal pedestrian crossing points will be denoted by tactile paving in contrasting materials to allow use by the visually impaired
As part of this work improvements will be made to lighting at Marischal College and capacity will be factored in to convert the route into a venue for programmed events throughout the year.
In a statement the Council said: "The plans include the shared pedestrian/cycle pavement extending towards Union Street with the existing Caithness paving, the traffic lights at Upperkirkgate and Gallowgate to be removed and replaced with a shared surface for vehicles and a roundel (a mini-roundabout with a road surface feature that indicates roundabout driving rules apply and pedestrians are given priority), and a Toucan crossing (pedestrian/cycle crossing) created at the Union Street/Broad Street junction."
The Broad Street project forms part of the City Centre Masterplan and is being funded through a developer obligation of Muse, who are currently delivering the mixed use
Marischal Square project
.
Work is expected to get underway in February for an August completion.
Back to October 2016