Revised Dalry student accommodation plan brought before planners
May 20 2019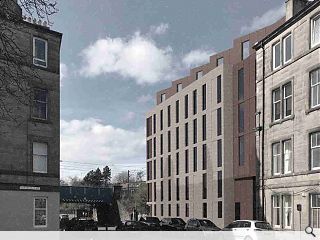 Maven Capital partners and Susan Stephen Architects are collaborating on the delivery of a 122-bed student accommodation building at Murieston Crescent, Dalry – supplanting a previously approved scheme.
Occupying a corner plot bounded by a railway line and the Western Approach Road the scheme takes the place of a disused workshop and Masonic Hall, with an ornate date plaque from the latter being retained for display within a new access pend.
Finished in buff brick with an oblique top floor setback the six-storey build is massed in response to a neighbouring tenement, with bronze coloured metal cladding providing perimeter relief. A continuous wing of accommodation will extend back into the site will be similarly treated albeit with some areas of pale render.
In a statement, the practice wrote: "The elevation is clad in a buff brick to match the general colour of the surrounding tenement properties. The height of the street elevation also relates to the scale of the neighbouring properties.

"The top storey of the building is set back and rooms gain views to the west across the railway
line."
Back to May 2019