Hillhead Baptist Church puts faith in housing-led renewal vision
May 20 2019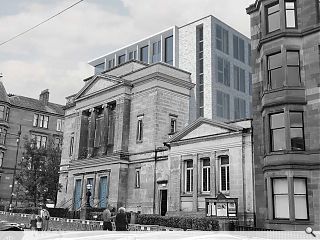 The B-listed Hillhead Baptist Church in the heart of Glasgow's West End conservation area has been earmarked for 30 flats in proposals drawn up by EMA Architecture and design.
Derived from a previously consented façade retention scheme from 2011 the latest plan is the product of a partnership between the church and Wemyss Properties which would see the congregation benefit from a new community facility and vital repairs, paid for by an enabling residential development.
This would entail the façade retention and extension of the current building together with the replacement of large areas of failing stonework. The existing hall meanwhile would be demolished to allow a smaller community facility to take its place, with flats above.
In their design statement, EMA wrote: "The new upper-level extension is informed by the geometry and symmetry and of the existing building and designed to reflect the order of the façade. The new concrete panels will define a series of glazed openings which form the windows to the apartments at the upper levels. The simple concrete and glass structure is set back from the existing building line and is intended to be subservient to the historic listed building."
Hillhead is to benefit from a major public reaim improvement package centred on the nearby Byres Road.

Warning of the dangers of inaction the architects go on to caution that '… this may well be the best and last opportunity to save the building.' Writing: "If the building lies in its current condition for several more years it is probable that it will have to be demolished in its entirety."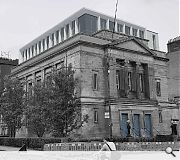 The height of the church will be increased in line with neighbouring tenements
Back to May 2019