Modular cabin village to form Portobello cultural hub
April 8 2019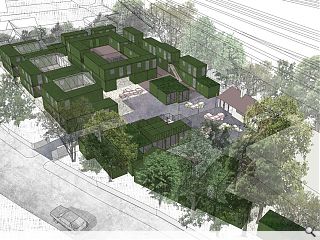 Landscape architecture studio Here + Now with architect Akiko Kobayashi is leading an initiative to deliver a temporary cultural hub comprising studios and workspaces at Portobello, Edinburgh.
Stanley Street Studios has been conceived by arts charity Edinburgh Palette to transform an area currently reserved for light industry into a modular cabin village to serve as a hub for creatives, health groups and social start-ups – many of whom will be relocating from the charities current base at St Margaret's House.
These will be housed in a series of repurposed site accommodation cabins which will be refurbished and painted moss-green before being stacked in U-plan and courtyard 'arrays.'
In their planning submission, the applicants wrote: "The public realm comprises the refurbishment of an existing cafeteria building into a public cafe servery with external seating and the conversion of an existing warehouse structure into a flexible 'black box' space. It is at present imagined that the black box will provide for food/craft festivals and other small-scale, mostly weekend daytime events.

"This public area is flanked by an array of smaller studios that have shopfronts, should artists/artisans wish to have a more public-facing interface."

Cabins will be arranged to provide breaks and landings with some single storey cabins given planted roofs.
Back to April 2019