Bigg detail Dundashill custom build vision
|
Send to friend
April 5 2019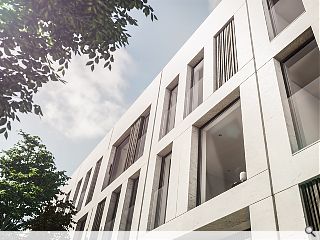 Bigg Regeneration (the joint venture between Scottish Canals and Places for People Capital) are to follow-up completion of the latest phase of Maryhill Locks by bringing an innovative Dutch custom build model to Dundashill, part of wider efforts to establish an urban sports, arts and creative hub around Port Dundas, Glasgow.

£5.7m worth of site enabling works are scheduled to complete next month at the site of the former Diageo Distillery, with the intention to deliver a range of innovative house types to slot within an urban design framework penned by HTA Design and Rankin Fraser.

To this end six invited practices; Haus, Stallan-Brand, McGinley Bell, Ann Nisbet Studio, JM and Mast Architects have put forward their own speculative custom build solution for the hilltop site, with a pledge by Bigg Regeneration, Igloo and CCG to go ahead and build the project should sufficient customer demand be demonstrated – with financial support provided by The Scottish Government.

By handling the complex processes of land acquisition, planning and infrastructure in advance it is hoped to tempt house buyers to choose from a range of more innovative house types that can be better customised to meet their own specific requirements.

Gary Watt, development director at Bigg told Urban Realm: "Our attention is now focused on the selection of house types that will be progressed as a speculative offer in the first instance. To do that, we are reviewing the excellent ideas from the six practices (alongside house types already delivered at Maryhill Locks) against the latest customer feedback from Maryhill, in the hope that we can provide a range of homes at Dundashill that perfectly match the pioneering DNA of our demographic.

"Glasgow has incredible design talent and it was a joy to be able to roll the sleeves up and explore housing together, from a starting point of imagination and place identity. By the end, each and every studio blew us away with their energy and enthusiasm, alongside coming up with design proposals that captured what we set out to do – deliver housing that is just a little bit daring and different."

Target costs for each home have been set at £1,450 per sq/m (excluding fees) with the hope that a site start on-site can be made by September.
Back to April 2019