24 apartments proposed for lost Galashiels church
|
Send to friend
April 5 2019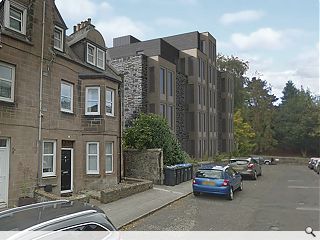 An historic Galashiels Church has been demolished in favour of 24 apartments for affordable rent in new plans filed with Borders Council by Camerons Architects and Cubby Construction.
St Aidan's Church on the junction of Gala Park and St Andrews Street had been earmarked for conversion under prior housing proposals but was subsequently demolished after these proved to be financially untenable.
Now it is proposed to erect two 'strong' new build blocks in its place to reinstate the urban grain with a finish of stone, slate and metal in reference to the former church.
Explaining their design approach the architects wrote: "The proposal is for a strong new building for both Galashiels and Gala Park. A building that contributes to the townscape of Galashiels in the same way the former church did, a landmark and contextual building that contributes to the community; in this case, through affordable housing."
Galashiels has been given a boost following completion of the Borders Railway, sparking new residential development.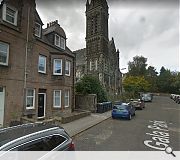 A 2008 proposal sought to re-use the church but was not pursued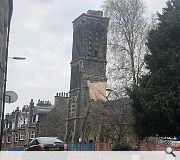 The delicate process of demolition began on 13 March and is still underway
Back to April 2019